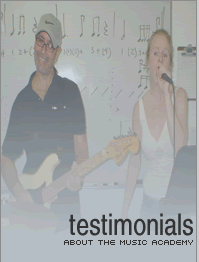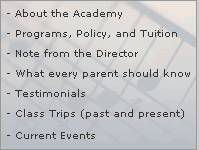 ---
I would definitely recommend the Music Academy to anyone trying to improve their vocals. Everyone is friendly and a pleasure to be around. Thank you for helping me get to "the next level"!
- Christina Jensen
---
The Music Academy is a very professional business. All the employess are very patient and friendly. It's a pleasure to bring my children here. I believe I landed in the best place around.
- Deanna Giglianno
---
I come to the Music Academy because it is the fastest and best way to get good at whatever music you like. I have had lessons elsewhere, and I didn't learn in a year what I learned in two months here. The staff is awesome as well.
- Jesse Parker
---
I'd say the best way to describe The Music Academy is "Music Made Fun." A highly informative curriculum that ensures you to learn music the proper way, while still incorporating the music of today to create a fun atmosphere. I highly recommend this Academy to any musician that enjoys playing.
- Sal Imposimato
---
I think you guys are doing a great job. It really shows. One year ago I never would have expected to be where I am now on the guitar.
- Matt Breslow
---
Tommy got his first guitar and immediately fell in love with it. We set him up with guitar lessons at The Music Academy about three months ago, he is doing fantastic. Actually, just last week we went to a Memorial Day party and Tommy played for the party and people were amazed how good he was. I recommend The Music Academy for everyone, the progress Tommy is making on guitar is astounding. My hat is off to The Music Academy.
- Tom Kunzman Sr.
---
We have spoken numerous times of how appreciative our family is of your Academy, but I felt compelled to follow up with this note. Stephan took drum lessons for eight years prior to attending your Academy. We were drawn to your school as you offered drum and guitar lessons as well as flexible scheduling to fit them both into a busy family schedule.

What we did not anticipate was the rapid musical growth that your highly skilled staff would pull from Stephan in such a short period of time. All of your qualified instructors have challenged and pushed Stephan to greater accomplishments. At the height of Stephan's present instruction is his participation in the "live playing workshops." Being teamed up with a group of talanted students, he is able to accelerate both his guitar and drum talents as well as obtain a better understanding of the interactions in a band atmosphere.

"The Next Level" logo on your instructors t-shirts is so appropriate. We look forward to a continued relationship with you and your entire staff.
- Scott and Shari Swain
---